Out There Halloween Mega Tape (aka WNUF Halloween Sequel) DVD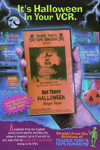 Available officially for the first time ever. It's Halloween in your VCR!
So gorge yourself on candy corn and hunker down for a haunted house party filled with aliens, vamps, and phantom tramps via this hard-to-find flick from an infamous East Coast '90's bootleg video operation.
Straight from the archives of Trader Tony's Tape Dungeon, the "Out There Halloween Mega Tape" was assembled from the highest quality source materials available and presented just as it was sold via Trader Tony's mail order catalog in the 1990's.
SPECIAL FEATURES:
Audio commentary with Trader Tony
Purple Stuff Podcast picks their favorite commercials
Immortal Dagger's "Sacred Decapitation" music video
Free U.S shipping. If you're outside the United States, check international shipping rates before ordering!